We say it a lot on The Spanish Announce Table, that
NXT
Takeover usually is a better show than the
WWE
PPV event it shares a weekend with; but that's because it always proves to be true.
Are they better at storytelling? Is the talent better? I suppose a lot of that is subjective, but let's just get into the show and see what happens this time.
---
NXT TAG TEAM CHAMPIONSHIPS
Undisputed Era (Strong & O'Reilly) vs The War Raiders
You can tell Triple H runs NXT by the very first wrestler intro. The grand entrance is a nice touch though, to his credit, and really made the War Raiders look like a big deal. Their specific entrance felt perfect; it fit their gimmick really well.
Tom and I have been looking for the return of big alpha male wrestlers that leave destruction everywhere they go, and the War Raiders sure look like they fit the bill.
This match against
The Man That Charisma Forgot Roderick Strong
and friend of the show
Kyle O'Reilly
was on-fire right from the start.
Listen to Kyle O'Reilly answer CINCO PREGUNTAS on The Spanish Announce Table Podcast
I like that we get new
Tag Team Champions
in NXT, and The War Raiders certainly look the part. I'm not sure how well it comes off with them being on top of the mountain and others trying to defeat them, but we'll see how NXT books things moving forward.
---
Matt Riddle vs Kassius Ohno
The Bro
has an unmistakable charisma that is going to take him places in WWE. So, setting him up in a match against a world-traveled veteran like
Kassius Ohno
was a great move. Charisma alone isn't enough to just thrust someone onto the main stage, and getting to work with someone who can, quite literally, show him the ropes is going to help him tremendously.
All that aside, I feel like Matt Riddle might have the best entrance music in all of wrestling. If you disagree, I can't feel you, BRO!
This match did a great job of making Matt Riddle look like a beast. I can't imagine anything but big things for this guy's career in WWE/NXT.
---
NXT NORTH AMERICAN CHAMPIONSHIP
Ricochet vs Johnny Gargano
This match delivered on every expectation that was placed upon it. It's not often you get young talent with all the energy in the world, where both of them are seasoned veterans, but that's exactly what we got with
Ricochet
and
Johnny Gargano
.
I expected this match to steal the entire weekend, let alone the show. As I write this, Royal Rumble hasn't happened yet, so there's a still a chance it doesn't steal the weekend, but it was absolutely a show stealer. If you haven't seen it, you're missing out; go watch it.
I like the subtlety of the Gargano character right now. Is he good, is he bad, is he neither? Now, with a title around his waist, that enigma will get some extra focus, and that can only be good things for us viewers.
---
NXT WOMEN'S CHAMPIONSHIP
Shayna Baszler vs Bianca Belair
This match is one that I might have been looking forward to the most. Shayna Baszler is one of the best heels in the business and Bianca Baleair is one of the most promising up and coming wrestlers NXT has on the roster.
This match will forever be remembered for the vicious hair-whip that just might leave a permanent scar on the midsection of Baszler.
I thought it was really good booking to have Belair freak out when the referee was knocked out, and she would have had an easy three-count. That felt like a rookie move, and was very believable.
This match lived up to all of my expectations.
---
NXT HEAVYWEIGHT CHAMPIONSHIP
Tommaso Ciampa vs Aleister Black
This match promised to be an in-ring storytelling classic.
Tommaso Ciampa
almost always gives us that level of performance, and
Aleister Black
is no slouch in that department either.
I still can't get over the feeling that Ciampa is one of the best at making you hate him that I've ever seen. This is made even more evident by the viciousness of his matches. They almost make you feel uncomfortable to watch at times.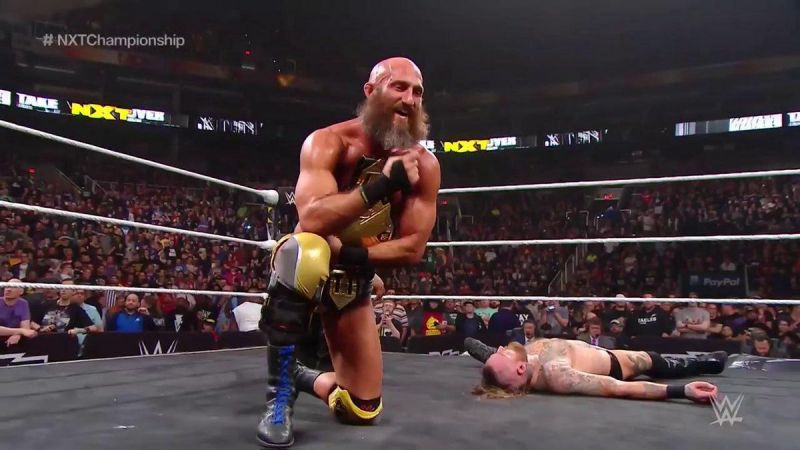 I'm really happy that Ciampa won. For whatever reason, Black just doesn't make me feel much, which doesn't work very well as a face champion. If I have no reason to care about him keeping the title, then I'm more likely to want to see the challenger win.
---
They did it again. From top-to-bottom, NXT Takeover was an entertaining, high-energy show that left me completely satisfied.
Now that
All Elite Wrestling
is going to become a thing, we'll see if NXT can keep this train rolling. It's probably been easier than it should be for WWE to have such great stars putting on such great matches, when they really didn't have any competition for that talent.
---
Don't forget to subscribe to
The Spanish Announce Table Podcast
, for more in-depth discussions on NXT, WWE, All Elite Wrestling and more.
Check out
The Spanish Announce Merch Table
for some sweat threads and products to show your friend(s) that you are cooler than they are.